Meet the Ten Eighty Team. Together, with over 50 years of experience in the live event business, the Ten Eighty Media team has the knowledge and experience to transform your event into a well engineered, well executed production. Let us make the show happen for you!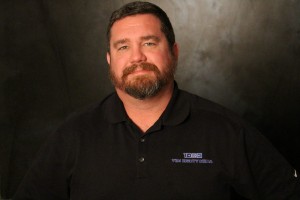 Mike Bird- Sales and Events Manager
Mike Bird was basically born into the industry.  As a young man, Mike spent his days learning the trade from the inside of a John Crowe truck.  From microphone wrangling to engineering for John Crowe, Mike's formative years were spent immersed in live event production.  After spending several years at Alford Media as a road video engineer and client favorite, Mike finally unpacked his suitcase for a position as rental manager at a local 'boutique box rental house'.  In less than a year, Mike single handedly changed the culture at his new home from one of 'greed and me-first', to one where the client comes first at all cost.  Coincidentally, sales and profits at said box house reached all time highs that year.
These days, Mike lends his personal touch and technical know-how to the company he co-owns, Ten Eighty Media.  Too skilled to leave the suitcase unpacked forever, Mike hits the road from time to time, engineering video systems, taking care of our clients, or sometimes just to make sure Ten Eighty Media events run smoothly.
Mike has a beautiful wife Dani (who happens to be a freelance teleprompter), three wonderful kids, and three dogs that keep him occupied most of the time.  Mike likes to hunt big game, and fly fish with what's left of his free time, after work and family call.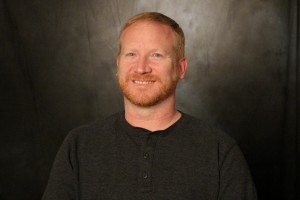 David Cleaves—Engineering and Tech Support
Dave wasn't born into the industry, but got in as quickly as he could.  A strange turn of events took Dave from working in television commercial production in California, to the projection and engineering department at Alford Media.  Fortunate enough to work alongside one of the brightest minds in the industry, Alford Media's senior video engineer, Bill Brady, Dave quickly found himself on the road doing corporate tours, projection, engineering, and then back in the shop wiring Alford's cutting edge video switching systems, repairing and modifying electronics, and generally making a nuisance of himself.  His first friend on the job at Alford?  Mike Bird.  When Mike called from his new job at the 'boutique box rental house' looking to recruit Dave to be the in house engineer, it didn't take much convincing on Mike's part.
Considering his nickname "The Problem" (given to him by his boss at the ' boutique box rental house') it's pretty ironic that Dave spends a lot of his time creating solutions for the clients of Ten Eighty Media.  Whether it's a creative way to engineer a video system, or finding a way to make broken gear work, Dave enjoys the challenges that present themselves in the live event world.
In his spare time, Dave likes to write music, play his ever-growing collection of musical instruments, play ice hockey, and spend time with his girls—wife Alexis, daughters Piper and Riley–and son Julian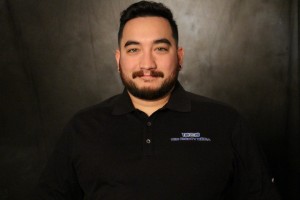 Ian Gordon—Operations
A multi talented cameraman and grip, Ian is a product of the University of North Texas RTVF department. Houston born and bred, Ian has many skills that make him a valuable asset to the team. As a camera op, he cut his teeth running handheld camera for many of the biggest national touring acts in America. When not behind the camera lens, Ian spends his days at the heart of Ten Eighty Media's operations.  Ian makes sure that equipment comes in and out of Ten Eighty in a complete and timely fashion, delivers gear to show site, and runs camera. A 'jack of all trades', Ian's future is bright at Ten Eighty.
Ian is an avid gamer, former boy scout, loves his car, and likes to drive FAST.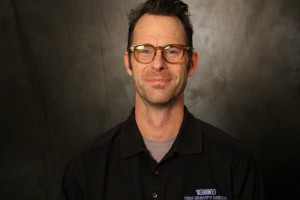 Jason Cockburn—Operations
Jason is the newest addition to the Ten Eighty Media family. Jason comes to us with many years of freelance A/V work under his belt. Born with a great work ethic, Jason is a great leader on show site and in the shop as well. His can-do attitude is infectious, and helps motivate his peers. In addition to being our roving A/V tech, Jason heads up Ten Eighty Media's inventory and QC departments. Jason has implemented many great ideas that streamline Ten Eighty Media's operation, from improved warehouse flow, to better inventory tracking.
In his spare time, Jason is a songwriter, actor, composer and playwrite. A true renaissance man, Jason also performs as Mike D in a local Beastie Boys tribute act. Jason has a lovely wife, Meredith, and two beautiful sons Dominic and Vaden.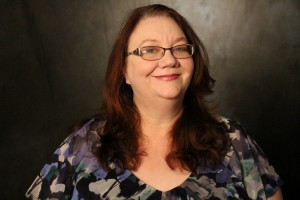 Kelly Ball—Accounting/Office Manager
Kelly Ball holds down the accounting end of Ten Eighty Media. In addition to managing the books, Kelly handles most of the day to day office details for Ten Eighty Media.